Today's weather forecast was sun with showers. Tomorrow's is showers with occasional sun. So I had to do something that would allow me to work around the showers - and decided to do the wing mirrors, and if there was time, the reflectors as well.
The first idea was to attach them to the windscreen pillar, like some Ultimas do: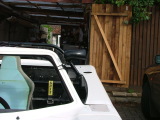 However, I'd need to bend the bar that comes with the wing mirror a bit, and also be careful of the door opening. As a result, I made my own poles, and proceeded to mount it like the demonstrator's mirrors: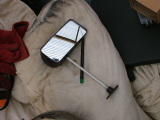 And attached to the body: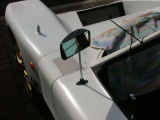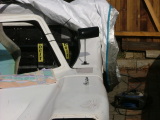 And then I did the other side: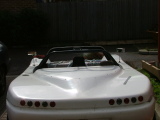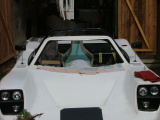 It's actually looking much more driveable now! So, to do the reflectors. These are from a 2003 VW Transporter: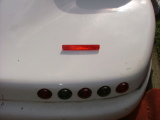 Initially, I was going to put them under the lights, but it looked very cramped. So, I put them on the bumper section (which is where they are on the Transporter as well):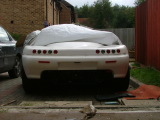 Now, there's two things wrong with this. Firstly, they're not quite level - the reason for this is that the pins that hold them aren't level. I didn't notice this until after I'd removed them from the bumper. Secondly, they're not central to the lights. This is actually more worrying; I'd measured it from the number plate section, which means that either the number plate hole is not central (and not my fault), or the lights aren't central (which is my fault).
Moving the lights is now too difficult, so I decided to move the right hand reflector in a bit. I cut a hole the same shape and size of the reflector to allow me to inset the reflector - also like the Transporter!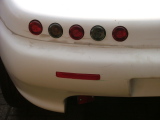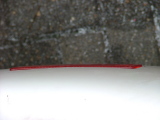 I then took a picture with the flash: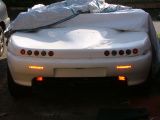 And also without: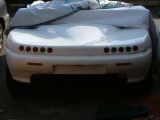 Oh, in case you're wondering, the earlier reflectors are in the wrong place (too far away from the sides).
I then cut some aluminium lengths out, drilled some holes, and sikaflexed it down (I'll put some GRP over it later on):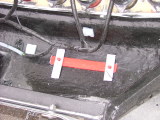 While I had the rear section open, I glued some special cable tie holders that are designed to be glued with epoxy resin in place. They've got teeth-like grips on the underside, and won't budge (assuming the epoxy holds):