It was quite a nice day today, despite it being November - I left it late to start because it had been very cold earlier in the week. I should've started a couple of hours earlier!
Anyway, I needed to cut some holes in the handbrake cable panel, to allow the clutch (and a slightly wrongly placed cable tie holder) to fit: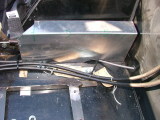 And since I extended one of the brackets for the gear selector, it needed to be replaced with one that fits over it better.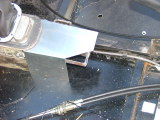 This new panel also had another fold on the other side.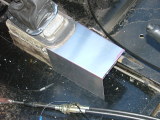 And then I wanted to extend the handbrake cable to cover a lot of the handbrake as well. This needed to be done in two additioan parts.
The first part was at the bottom, which would hold a different plate at the top. I couldn't really make it in one part, because of the complexity.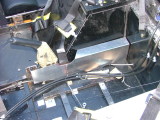 The top panel follows the curvature of the handbrake mechanism, and the back gives a bit more room if the mechanism goes up a bit further.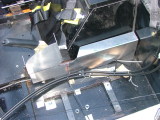 However, the harness can come out of this point (which will need some rubber edging).