I'd just come back from a trip to see my brother in France, so today was a short day.
First of all, I put some body filler on the chair to cover the gap.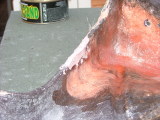 While that was setting, I used a lot of thinners, and removed the old glue and seat padding that remained - this took a heck of a lot of time, and I didn't actually end up removing all of it.
With this done, I sanded the body filler (and some of the GRP) so the edges were all smooth.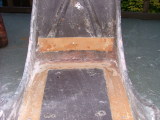 I then did the same for the other seat - which had a lot more to do with it.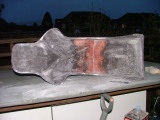 Tomorrow, I'll do some alterations to the accelerator pedal so it's in a better place (it's far too forward for my liking) - and I'll also see about putting the final bit of the floor in.
And during the week, I'll send the seats off to be trimmed.