Today's weather forecast was for snow at night, and there was rain in the morning. It was also a bit blustery, but I wanted to continue with the GRP work on the corners.
Having said that, I firstly put some GRP in the bit I'd ground and filed out: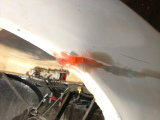 And I then started on the other side: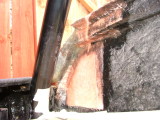 Now, when I grafted this corner in, I'd over-cut the GRP, so it needed to be rebuilt.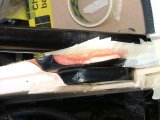 With that set, I put some body filler on the bits I'd done: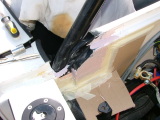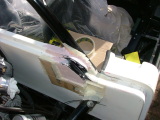 I then turned my attention to the engine. I wanted to know if the actuator works, so I dismantled its connection to the exhaust, and both parts moved freely. This gave me a renewed confidence that the engine should work (yesterday, I'd discovered that the gearbox wasn't stuck, which was a relief).
However, there's a few pipes I'm still not sure about some of the pipes. That'll be a job for Scooby to tell me, I hope :). Here's the original pictures, and annotated with the bits I need to find out about: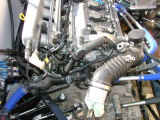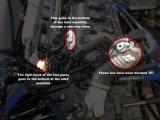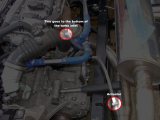 I'd really like to get the engine running in the next two weeks, and I'll be ordering my charge cooler this week...