I wasn't happy with some of the plumbing I'd done yesterday - one part of the pipe was at a tightish angle, and had compressed the pipe a bit. There had to be a better solution.
I spent an inordinate amount of time trying out various combinations, making a new bracket, changing the angle of the bracket, and then decided the best place for the pump was on top of a panel in the sill. So, that meant making a pael.
This was actually the second panel I made (the first wasn't quite right - although part of it can be used for the hole that's left.
After a lot more fiddling, a better place for the pump was inside the sill.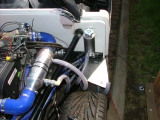 All I needed to do was cut a hole for the pipe from the pump (the rest was going down the side):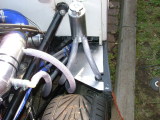 And I augmented the hole with a slot in the sill itself: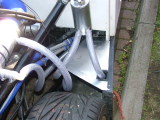 With that done, I decided to replace the horn button with an identical switch to the other side.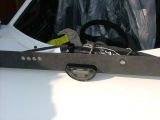 Since I need to have an oil and an alternator sense light, I wanted to add another 2 holes - and to make it symmetrical, I wanted to add a third.
Unfortunately, while drilling the last hole, the alicante tore: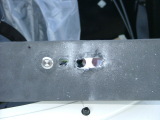 Oh well - two steps forward, one step back!
So, to aid the recovering of the dashboard, I cut the electrical cables to the dashboard, and put some connectors in place: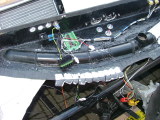 And the final thing I did was to remove the alicante, and sanded the surface down - ready to be recovered.