I'm currently doing random things as my Mondeo isn't feeling very well, so I can't really go out and get bits until I get it fixed next week.
The first thing I did was remove the two right angle aluminium brackets in the doors, and fitted the wire that allows the door opening mechanism to release the latch (as I'd done on the other side quite a while ago).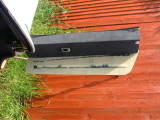 I also glued some more carpet on the back of the fuel tank panel.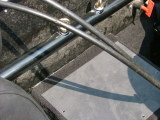 I then concentrated on the steering wheel pad - it had become a bit worn, and some angle grinding grit had become embedded in it (I must've misplaced it at some point during the build), so I stripped off the old Alicante, and since I now had some foam, I used that.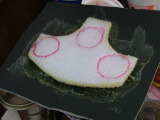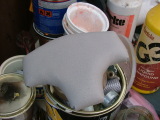 Unfortunately, I ran out of contact adhesive at that point - I'll have to get some more when my car's back on the road.
So, I fitted the hose pipes to the charge cooler radiator.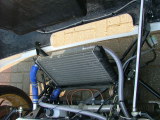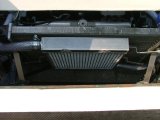 Amd while I was doing that, I stuck on one of the chassis plates I had made earlier.
However, this one was welded in place, and painted.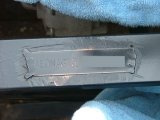 I then used another bit of aluminium to close off part of the charge cooler protection cover.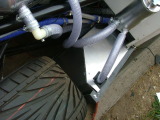 Which I then used Sikaflex on to make it more waterproof.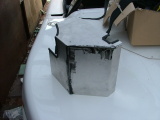 During this, I also did a bit of a tidy in the garage, which I'll continue later on.