Today's job of tidying the electrics isn't quite as straight forward as you may think. While all the cables are there, they need to be secured every so often (I'm doing it under 30cm), and protected where necessary. I've decided to go a bit overboard on this...
I started by gluing some cable tie holders to the rear bulkhead.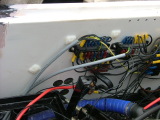 And I also used some spiral wrap around a fair amount of the cables.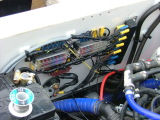 I then added some more cable ties to the rear bulkhead to take the main battery cable.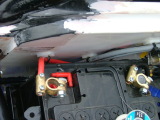 And I put some connectors on the water temperature sender so that the wiring loom can be removed easily if necessary.
And some spiral wrap on one of the earthing straps.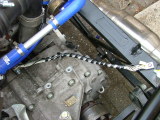 And also a connector on the throttle position sender, and another on the air temperature sender (which I hadn't wired until now).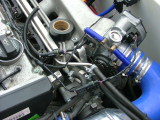 And finally, some cable tie holders glued to the rear bulkhead for the ECU and charge cooler water pump.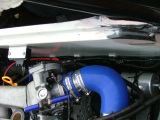 This actually took a while to do - spiral wrap isn't the most user-friendly thing to use, and it was also a very hot and humid day.