Yesterday, I'd overdone it in the weather, so I needed to have a reduced day today - the primary goal was to fit the radiator fan.Unfortunately, the fan I'd ordered for the charge cooler still hasn't turned up (I ordered it the beginning of April), and I decided to push chance, and fit the old one with some brackets (knowing my luck, the proper one will turn up tomorrow).
This is quite a bit bigger than the other one, and the mounting points are in a different place. I made a simple bracket - it's only temporary, and will allow me to get the engine mapped if it still hasn't turned up by then.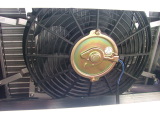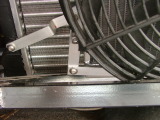 The last bolt didn't want to do up, and I need to jack the car up. Since I need to take the sill off to do this, I decided to leave it until I've bought a long-reach, low-profile jack.
So, I started work on a cover for the electrics. This is made out of a sheet of aluminium, folded in 4 places...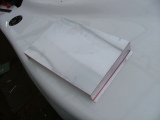 ...with some cut-outs for the cables...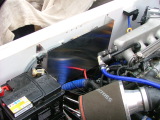 ...a top plate...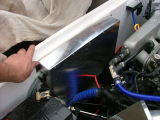 ...and some rubber edging around the cutouts and bottom.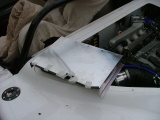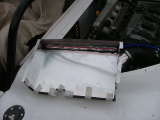 I'll drill some holes in the bulkhead to take it later on.