Some bits turned up
Some important bits turned up today. The engine mount that I had been missing (took two attempts to get it - the first time I got the engine mounting rubber mount, rather than the bracket)...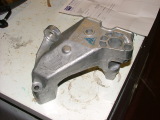 ...and the wing mirrors...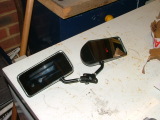 ...and also the filler cap (black), lead-free flap, harnesses, door opening handles, rubber stops and some other minor bits.
All I need are some M12x1.5x35 bolts to get the engine fitted (didn't realise they were metric fine until I tried to screw a normal thread into them).
Still, the timing belt area looks nice and clean.