The hoses turned up today - yes, I know that I could've got them cheaper if I'd shopped around, but I'm now in a bit of a rush to get them. I'd missed out 3 hoses that I should've bought, although they may not be important. I also didn't buy any connectors - I'll get them when I can't find aluminium tubing of the right diameter.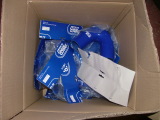 I'm not going to fit them properly today, just place them in rough position. Firstly, the turbo hoses.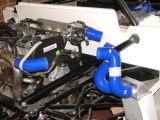 And then the windscreen heater hoses.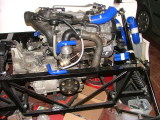 It was at this point I noticed another one I'd forgotten - still might not be important. One's also a little tight - I may need to get a slightly wider diameter pipe.
And finally the radiator hoses (the engine part at least).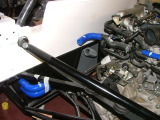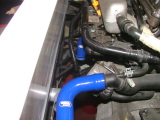 Tomorrow, I'll nip down to Portsmouth to collect the wheel bearings, and then I'll start to fit these properly.