Yesterday, I'd started work on the brakes, but I didn't have the right bolts. So, it was first of all off to one of my local shops that keeps odd sizes to get some 7/16" bolts to hold the calipers.
With these, I was able to fit the discs to the wheel hubs, and the calipers to the hub carrier.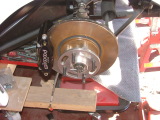 They're nice and centred.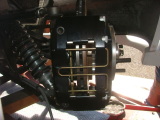 However, the 7/16" bolts are a tincy bit short - I'll get some longer ones on Monday.
It didn't stop me fitting the other side, though!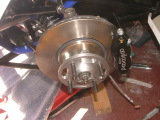 I then put the rear hubs on - this was before I'd tightened the hub nut.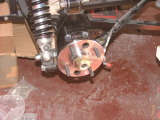 And the other side.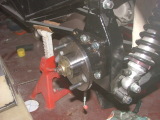 I then jacked the back up, and moved the axle stands under the hubs.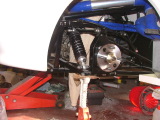 Note that the trolley jack is actually 20mm below the chassis rail.
I then measured the distance from the gearbox to the back of the hub.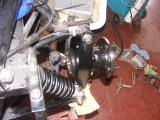 The offside is 492mm, and the nearside is 319mm.
I then had a look at how the rear brakes are fitted.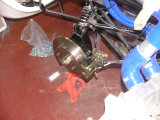 And now for the big one - I fitted two of the wheels.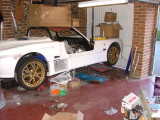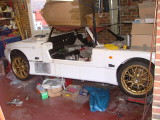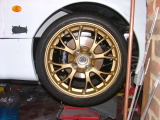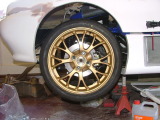 Unfortunately the front hub studs are slightly too long, and will need shortening by about 10mm.
I took the wheels off, and put them back indoors to prevent damage, and started work on the side pods again - the idea is to possibly paint them tomorrow, since they're mostly done.
The nearside pod needed a little cutting to allow one of the cross members to fit. I don't exactly know why this side doesn't fit, and the other side misses the member by quite some distance - even though they're measured the same way. I can only guess that I cut it at a different place on the Blaze body.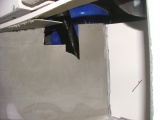 This will need a small panel to cover it.
I put a little more body filler on the other pod, to give the corners a nice rounded edge.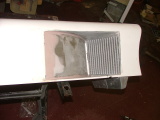 With that sanded down, I made a template for the small panel out of 3 segments of aluminium.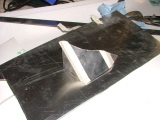 I then cut it out as one piece, folded and then bonded it to the side pod.