Yesterday, I'd picked up the ECU and engine wiring loom, and decided to fit the loom today - as well as strip some of the bits I don't need on the engine.
This was after removing some piping, and a unit that it was connected to. I've made a plate to cover the hole that's there.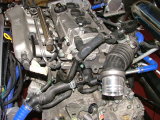 I then started to fit the electrical connectors - however, the water temperature one doesn't seem to fit what I think is the water temperature sensor.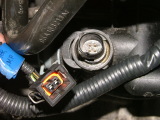 And with everything else on this side attached.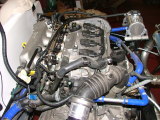 Also, the air temperature doesn't appear to be the same - although this may not be the air temperature sensor!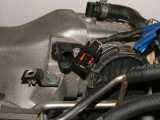 The other one that didn't quite fit was the oil pressure sender - it's a single pin connector on both ends, but they don't seem to fit. I'll ask tomorrow.
I then wanted to make the rear section fit nicely - John told me how to do it, which is to adjust the mounting point.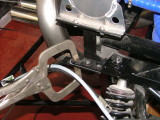 The clamp is used to hold it while it's moved around.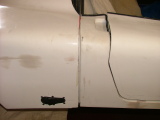 Now the rear gap is closer, I needed to trim the rear section so the gap is even. That's what the red line is for.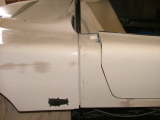 This is much better - I also did the other side as well.
I wanted to finish the front wiring - I found there was just enough room in front of the car to open the front section and continue work on it.
The sidelights weren't fitted because they interfered with the rear panel - as a result, I had to cut an access point for them.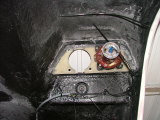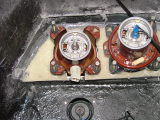 The earth lines were the first to be completed. They run to the bottom of the front chassis rail, where I'd put a rivnut.
And then I finished off both sides - including the side repeaters.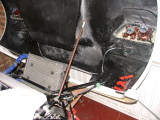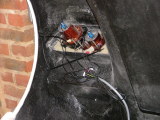 I then connected the battery to each of the lights to make sure they were all working. These are the main beams.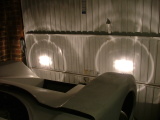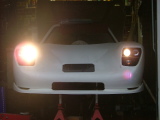 Finally, it was a last coat of paint to the blanking plate I made earlier.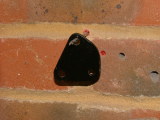 Tomorrow, I'll continue with the wiring - should be able to get almost all of it finished off.