Today started like day 2 - the clocks went back. This means that it's a year since I started building it (although 29th October 2005 was day 1, which is when I picked up the bits).
Since I'd like to get the seats sent of to be trimmed, I really wanted to get them finished today. The first thing was to check the routing of the gear cables. These need to go behind, and then under the seat.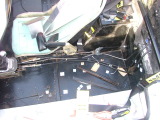 In order to give the best fit, I decided that the shorter cable needed to be slightly longer - the easiest way to do that was to move the end, and to do that, I needed to modify the gearbox again.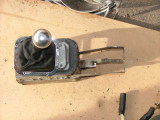 And to make the cable reach, I made an extension to the mechanism (this is exactly the same length that I moved it by [quite by accident, as it happens], which means it shouldn't require too much adjusting from its current place).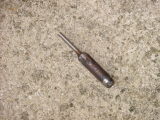 I then had another trial fit of the seat.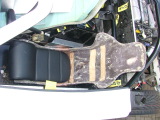 There's still a bit of space behind it...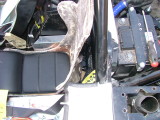 So, it was time to make the seat frames. The basic design was some 25mm box section steel with some 30x6mm flat sections: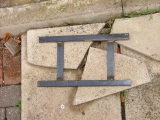 I drilled some holes, and then welded some captive nuts on them: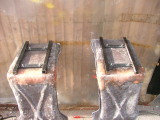 And then welded some big tabs onto it (for the floor mounting bolts)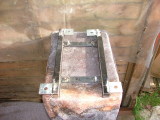 The offside is the easiest one to fit, and I used this to judge where the nearside one needed to go: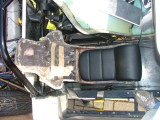 This is where the nearside one needs to be: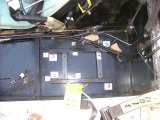 However, I needed to cut a small section away for the gear cables to flow past: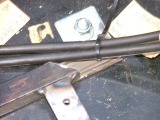 I then fitted the seat.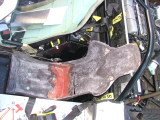 You may have spotted that there's a big slit in the seat. The reason for this is that it seems to lean to the right. On the offside, this is fine, but for the nearside, it wanted to get in the way of the roll bar (and I know which is going to give up soon!). Bending it the other way means it'll fit better. I think I noticed this when I put the original 3 seats in, so I'm guessing there's something wrong with Intatrim's moulds - it's not much (I measured across it, and it does seem to be square, but that could be something in the seat area which makes it square - but it definately looks wrong).