Steering column
First thing in the morning, I paid another visit to the Aeon workshop (I seem to go every two weeks) - although this wasn't only to pick up some more bits that have arrived.
I picked up the bottom end of the steering column that they'd modified for me, a universal joint for the column, the bottom bolts of the rear suspension (the final missing bits), the headlamp covers, and the remainder of the pedal assembly.
When I got home and started work on the car, I fitted the steering column first.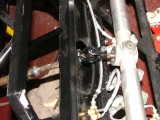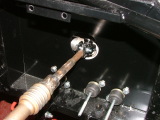 Pedals
I then put the clutch clevis pin in place - although the clutch pedal needed a bit of clearancing for it to fit correctly.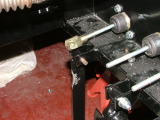 After painting the clutch pedal (and while I was at it, the bottom part of the steering column), I fitted the brake bias mechanism.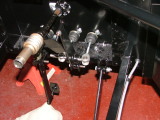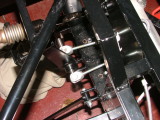 Interior
Tomorrow's aim is to get the central body attached to the chassis, so I wanted to prepare all the bits of the body that is more difficult to work on once it's immovable.
Firstly, I needed to sand the edges down - especially where the roll bar would interfere. This was before sanding (I haven't taken any pictures explicitly after doing the sanding, though!)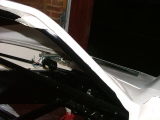 Next, I took the body off the chassis and did some more work on the wiper motor. I'd bonded the mounts earlier on, and now it was time to tighten everything up to see how solid it was.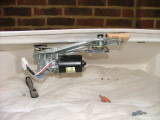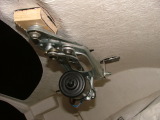 And then, I removed the wiper motor and painted the interior.