Since it'll take a while for the paint to dry, I started off spraying primer in the light wells.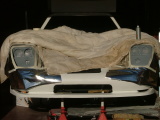 With that done, I started work on the filler cap. This was the first idea, which would have been fine if it was being bonded to the underside of the body.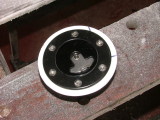 However, since the cap is going to stay where it is, and the body move around it, this was a better solution.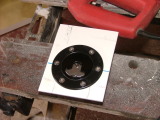 The primer had gone off, and I used some plain satin black paint (it doesn't need to be terribly well painted because it isn't going to see too much action).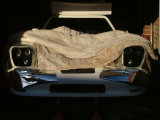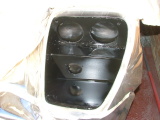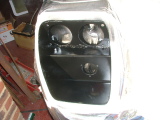 And then, back to the filler cap. I marked out where the hole needed to be, and drew around the outside of the cap.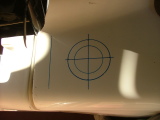 And after a period of contemplation (to make sure I knew what I wanted), I cut the hole using a GRP jigsaw blade (I don't have a hole cutter the right diameter).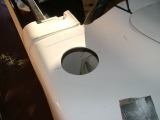 And with the cap propped in place.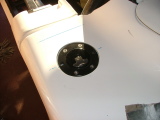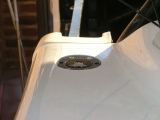 I needed to make a bracket to hold the cap in place, for which I used some plate steel.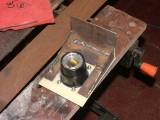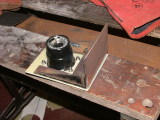 I used some thick tape to push the cap upwards to see how it aligned.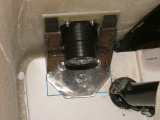 The tape can't stay, so I've bonded some bolts to the underside of the plate which will allow me to adjust the height so it mates with the rear section nicely.