Yesterday was the first Saturday I hadn't worked on the Aeon for a very long time - instead, I was doing a bit of work on the Locust (I'll be selling it shortly). Mainly touching up paint, but also changing the exhaust box.
Today, I started with some plumbing that was required for the DigiDash senders - oil temperature and pressure. Since the VAG engine's oil system is mostly enclosed, a T-piece from the existing pressure sender is the best solution (pressure will be okay, but I'm a bit worried about the temperature - luckily the ECU doesn't require it, so it'll only be the dashboard reporting it).
I had to tap two steel "plugs" for 1/8" NPT using a tapered thread, with a 10mm metric fine male connector at the other pece.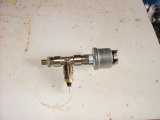 Unfortunately, I got a bit carried away, and tapped it too far, so I'll get a couple more plugs and not be as enthusiastic.
I did a bit more wiring on the ECU and DigiDash, getting as many senders as I could in place. However, there's a couple on the ECU that I need to clarify what they do.
I also got the fan working, with three relays I got on Saturday.
There was a glitch in the switches that cause the microcontroller to think that switches are pressed when they aren't. As a result, I put some code in to check to see if the switches really are pressed. The other option was to change the hardware to prevent this from happening. Luckily the software route fixed the problem - and I also did some other changes like only allowing the fog light to come on if the ignition is on and the side lights are on. The fan light now also goes off when the ignition is turned off.
John had sent me a new fan belt (923mm) to see if it fitted. It does - very nicely (the other option was a 938mm belt, which probably would be too long).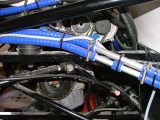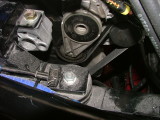 That was the end of my 2 weeks off - I didn't get as much done on the last week as I would've liked, but I needed the rest.