Before starting work on the new throttle connector, I packed up the three seats so they can be sent to Intatrim tomorrow for trimming.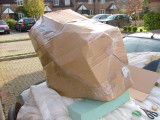 I found that the box they'd sent me the shell earlier accomodated all three seats quite nicely - although I did put some foam in for padding.
I then did a bit of work on the pedal end of the throttle linkage. I made a bracket with a hole and a slot so the front end of the cable can be removed without having to unthread the entire cable through the sleeve.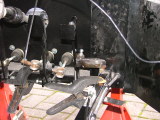 This also has a bolt to prevent the pedal from being depressed too much, causing additional strain on the cable. The two clamps are holding a metal ruler, and an additioanl bolt that prevents the pedal from moving too far backwards. Testing this showed that it's got plenty of movement available for it (and I'll need to get a longer bolt to stop it going down too far.
I then called my mate to find out if he was getting some bits powder coated - he is, very soon. So, I removed all the bits that could be powder coated, and tidied some of them.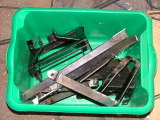 In this box, there is:
Battery holder
Header tank holder
Passenger seat mounting brackets
Rear gear cable linkage
Gear stick extension
Filler cap carrier
New throttle connector
And finally before putting the car away, I painted the driver's seat mounting brackets.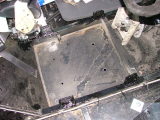 I decided not to fit the front floor, because it'll be easier to put everything back together.