Since today was going to start off fine, I decided to have a go at fitting the powder coated bits I picked up earlier in the week, starting with the header tank holder (which would allow me to hold the rear section open correctly):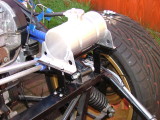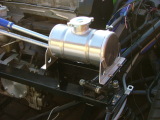 Then, I fitted the gearbox cable carrier: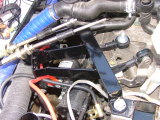 And then I put the cables in place: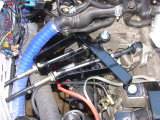 The battery holder was a bit of a struggle as the powder coating made the bolt more difficult to align:
But the filler cap carrier needed a lot of work to make it fit: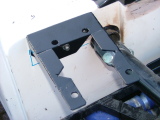 It eventually fitted though (needs to move a little to the front of the car, which I'll do later on):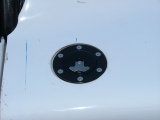 I then fitted the left-hand passenger's seat bracket: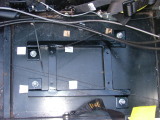 Then the right: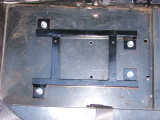 With all the major powder coated items fitted, I wanted to look at the exhaust, and how the mounting brackets should go: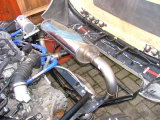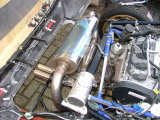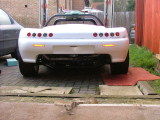 It looks like it's moved a bit - the exit pipes aren't level, and they've also dropped a bit, so it'll need to be moved.
Annoyingly, some dark clouds started to appear, so I stopped then - although it didn't rain until a couple of hours later. I'm not sure what tomorrow's forecast is; if it's fine, I may cut the end of the exhaust off, and try to correct it, as well as sort out the mounting points.