Trip to workshop
The wheels turned up during the week, so I made a trip to the Aeon workshop to pick them up, as well as some of the missing bolts from the rear suspension and the pedals
Rear suspension
Using the ½" UNF tap, I cleaned out the last corner's threads - this made fitting the adjusters much easier, and as a result, it only took about half an hour to put it together.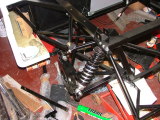 I'm going to get a matching die, remove the other corners and clean them up. This is really how it should have fitted in the first place!
Pedals
I drilled out the bushes for the pedals, put a die on the pedal thread (they can be moved to suit driver position), and then fitted them to the chassis.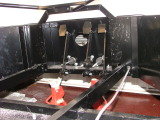 There's still some bits that I need (such as the bits that join them to the master cylinders).
Wheels
I was able to get a cracking deal for the wheels - they're Compomotive CXR wheels in gold.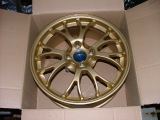 Unfortunately they've got blue centre-caps, but they can be changed. I'll either get red or black ones.