Fitting new panels
Cutting the holes in the aluminium was difficult - I think the hole cutter isn't really designed for aluminium (we used them on the Locust, but they had a hard wooden board bonded to it). I had some spare material from the doors, so I made some panels out of that - GRP is much easier to cut then aluminium.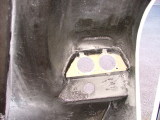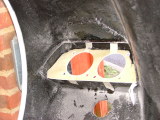 Hinges
Before the hinges can be made, I cut the end of the door off, and then stuck it down.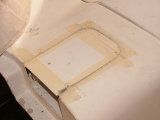 I'd designed some hinges earlier in the week, but there are other ways to make a hinge. I've got some 26x13mm bar (about 680mm long). I came up with a design that would use 160mm of the bar, so I could use 4 hinges - two on each side.
I then made a template from the design, and made a model of the area that it needs to sweep.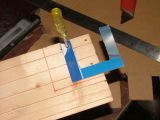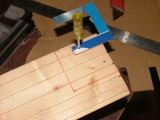 Since this was going to work, I made one of the hinges.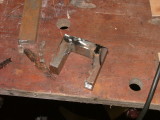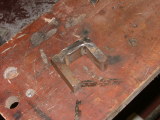 With the end of the door stuck, the only way the hinges would sit nicely is if a bracket was made to hold them in place.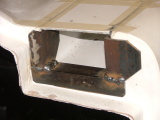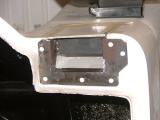 As it's 7pm Christmas eve, I decided to call it a night, and work on it on 26th (I won't work on it on Christmas day - I'll let the neighbours enjoy the day!).