Another workshop visit
This is the 6th visit I've made (I think). This time, though, it was instead of the postponed open day, where I was going to sort out the owners club, and also pick up the gearbox (and some other bits).
So, today was organised instead of the open day - fitting the engine and gearbox was the next stage that I really wanted to get done, and as they'd got hold of new gearbox (meant for an Audi TT), I wanted to pick it up along with the engine mounts, rear hubs, and a rear hub bearing kit.
Fitting the gearbox to the engine
Although this was actually done the day after (and a bit the day after that), I've included it in this day (otherwise it would've been a pretty short day)!
The first thing was to fit the rubber mounts to the chassis - this is actually something that Chris, my brother, did.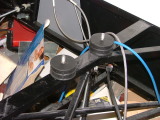 Then, we had a lot of trouble fitting the gearbox to the engine - there are some slightly larger lugs on the Seat engine that needed clearancing in order for the gearbox to fit. The turbo oil drain pipe also needed shortening (which I have asked my mate, Pete from Funkenblitz, to sort out - he also came up to help on the latter stages of the fitting). I also didn't realise that the engine hadn't been drained so removing the drain pipe caused it to flood over the workbench the engine was sitting on and therefore the floor. Quick clearup time!
While we were doing this, we found that the right hand engine mount was missing - looking at the Haynes manual I got (the day before), it looks like it's a standard part for this type of engine, so should be reasonably easy to get hold of. Unfortunately, this meant that I wasn't able to fit the engine/gearbox today, and will have to find one of these.