It's been a while since I've written anything up on my build - two weeks ago was the Detling Kit Car show, where I was representing Aeon and the Aeon Owners Club for the weekend, and last weekend...
The parts I needed for the SVA still haven't turned up, so I decided to move my car out of my neighbour's garage, and put it into mine. Unfortunately, mine was quite full of bits (only just enough room for the Locust, which is quite a bit shorter than the Aeon). So, last weekend I started to empty my garage, and also my garden of junk, so I could make space for the Aeon.
Today, I made a quick trip to the Aeon workshop to pick up the carpet and grille I left with them from the Detling show, and I also picked up one of the first of their custom-made driver's seat. The Intatrim Ranger seat is a little well padded, and my head is very close to the T-bars. This seat should fit in nicely (although I'm a little worried about the handbrake now!). I then finished emptying my garage, and then put the wheels on the Aeon, lowered it, and pushed it out of the garage.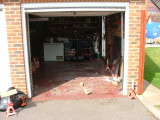 Hey, dude, where's my car!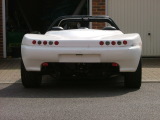 There it is!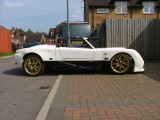 The front looks a little low, and the rear is a little high. However, it's easy enough to push.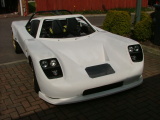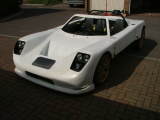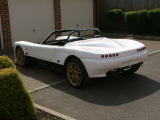 There's enough space to walk around it (I'll be going out past it each day).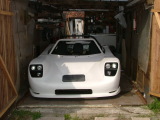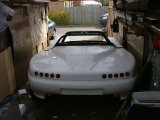 Just need to get those bits and I can go for an SVA...