It was Chris' last day today, and I wanted to get the windscreen in place. We firstly cleaned the windscreen (I've had it for just over a year now), and put it in place to see how it fitted: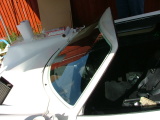 While that was being prepared, Chris made sure that all the eye bolts were facing the right way, and that the harnesses were crossed.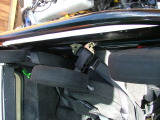 While I was getting ready for the windscreen fitting, Chris spotted that there was a "best before end" date on the windscreen fitting kit - after a quick call to Keith (and also verified with John - who had called a few minutes later), as long as it comes out of the tube, it was okay.
So, blacking the border of the screen: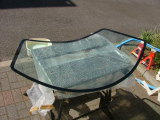 And after a very tiring session with the caulking gun (which was vastly assisted by putting some extenders on the caulking gun mechanism, and having Chris guide it), we put the windscreen in place - with a couple of washers holding it in the right place. Note that I wouldn't recommend modifying tools to make it easier in this way, but in this case it was the only way (it took 20 minutes to about 1/3 of the screen by hand - and I was getting very tired).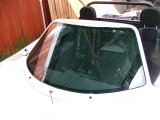 In order to get the screen to fit correctly, we had to brace the GRP with some bars (sorry about the quality of the last two pictures - not sure what happened).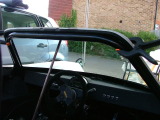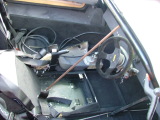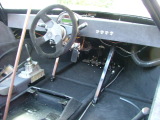 We did a bit more carpet fitting (there were still some visible panel areas behind the seats), I connected the ECU to the map sensor, and I was able to get the engine going for 12.5 seconds (according to the ECU software). It was still running a bit rich, but there's still some more plumbing to do.
We then fitted the rear section, cleaned the interior, and fitted the light covers to take some new "complete at this stage" pictures: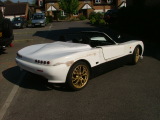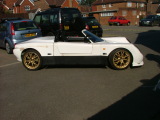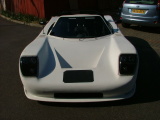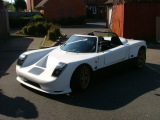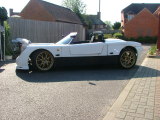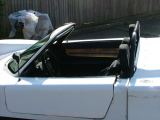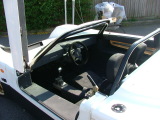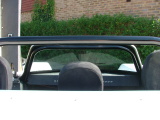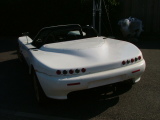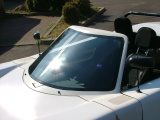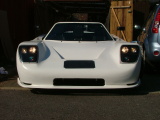 Tomorrow, I have to take Chris back to the ferry, and then I'll find out about the chassis plates I'm having made, and order the additional pipe work to finish the engine air plumbing. Oh, and get my new fridge!