I had three ways I could see to mount the intercooler.
Firstly, across the intake.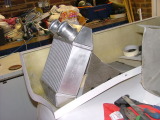 Secondly, running vertical to the intake (this was my original idea).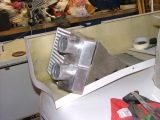 And thirdly, with an extra bit of ducting, perpendicular to the motion of travel.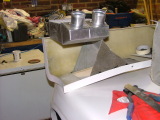 The first option means it doesn't interfere with the top section - however, there isn't enough room behind the side pod to arrange it in this way.
The second option doesn't require that much space behind it, but it will probably need some protection from the wheel - also, the entry/exit pipes will require a bend very shortly after their extremities.
The third option won't require this protection - however, like the first option, there isn't enough space behind it to fit it.
So, I went for the second option. If I find that I can't get a tight enough bend in the space provided, I'll have to get an intercooler made for the job.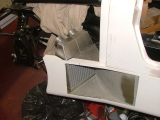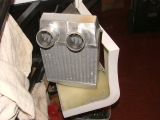 I then bonded it in place with Sikaflex - I'll have a look at it when its set to see how I can make some brackets to hold it - bonding may be strong enough though!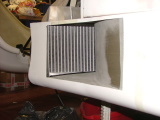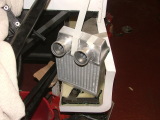 Yesterday's work on the first intake made it easy to make the second intake. This one will house the air filter.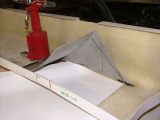 I've got a bit of a cold, so I'm taking it easy - so before finishing for the day, I glue the other door in place.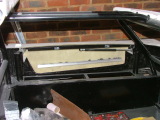 And also extended the bracket holding the filler cap, so I can mount the filler cap at a later date.