With all bits painted, it was time for the assembly of the doors. First of all, I made some "plates" to hold the bolts for the screws of the catch mechanism. Using M6 bolts, the gap between them was 13mm - exactly the same as an M8 bolt!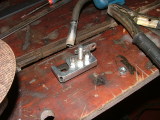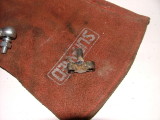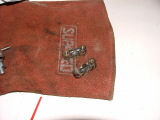 And with the two of them in place, the catches are now held down very nicely, and it's easy to tighten or undo them.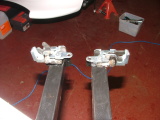 I started with the right hand door, getting all the bolts in place, and also fitting the gas spring.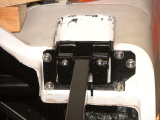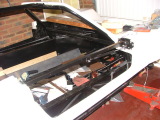 One of the problems that this had was that the GRP was flexing a bit - on the demonstrator, they'd made a bar to tie the hinge section to the chassis, so I decided to do the same. I don't have any 38mm diameter bar - but I do have 50mm - which makes it a bit more meaty than the roll cage.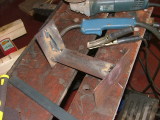 And in place: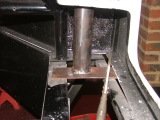 I cleaned it with a zip wheel, put some Sikaflex on the plate that immediately touches the GRP, and drilled some holes to take some M8 bolts. A rivnut was used at the front of the plate, which allowed it to take an M6 bolt (the 50mm tube would get in the way).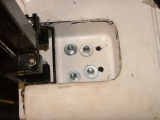 I also did the same for the other side. This was taken after I'd welded it to the chassis.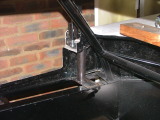 There is very little flex in the GRP now - although I had to make the bar that holds the bottom of the gas spring a little thicker, as this was now flexing!
Finally, I painted them both (as well as the inside of the hinge area - you wouldn't normally see it though).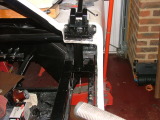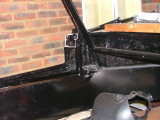 Tomorrow, I'll do the same for the other end - where the catch mechanism is. It'll be tied to the chassis in the same way, which means the door will be really solidly mounted.