When John was over on Tuesday, we found that the heater had a fair amount of air blowing out of holes other than the one it was meant to, so the first thing I did today was to fill all the gaps.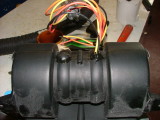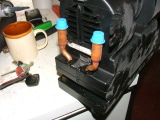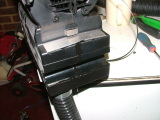 Then, I put some more Sikaflex on the dashboard heater plenum (I'd only used duct tape to test), and also glued the electronics to the underside of the dashboard.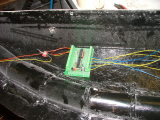 With the Sikaflex going off, I decided to fit the fuel pump mechanism. Firstly, I worked out what colours did what, and labelled them on the top of the mechanism.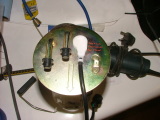 Then, I tapped the inner ring to take M5 bolts.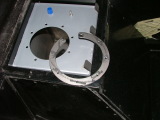 Using three long M5 bolts, I fitted the top ring and tightened each of the bolts in turn to push the mechanism down.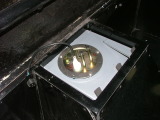 When the mechanism started to get into place, I put some stainless M5 button head bolts.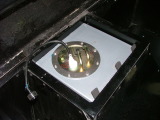 And when it was all tightened down, I tightened the button heads, removed the long bolts and replaced them with more button heads.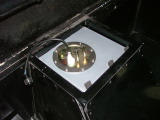 Because the fuel pipes are above the top of the panel (not sure why - it could be because I put some foam tape on the brackets that hold the tank in place), I made an extension out of some 25mm box section.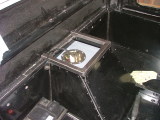 With the paint drying on the extension, and the Sikaflex had gone off enough to hold everything in place, I started work on the dashboard. The first thing was to mark out the position for the switches I was using. Since each have a 19mm hole, I put them 30mm apart, starting 30mm away from the end of the (current) steering wheel.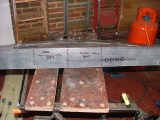 And with the switches fitted.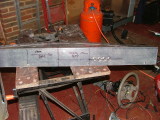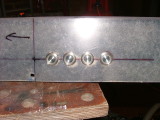 I then needed to fit the steering wheel. I fitted the main bar.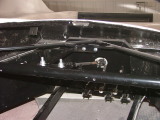 And then fitted the wheel itself and the dashboard as well.
The wheel was slightly leaning to one side - a couple of washers to move the other side down solved the problem.
I then got the DigiDash2 that I had got back in October, and looked at where it can go. This was the best place.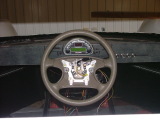 The only thing I didn't like about this was the top of the DigiDash unit was above the top of the dashboard - so I started to make a bump in the dashboard out of a plate and some sheet steel.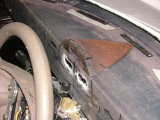 And with the DigiDash unit (roughly) in place.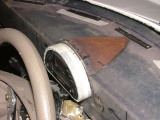 It was a long day, and time was running out - I'll finish this off tomorrow.