Before even stepping outside, I finished off the electronics that controls the lights and heater. The earlier design was fairly complicated, and something had happened to the PIC controller with its interface with the wiper mechanism. So, I simplified it - with the help of a chip I hadn't seen before which allows things like PICs to control relays very easily. In fact, Microchip (the people who make the PIC controller) have a note on using a PIC and this chip (amongst others) to control car lights.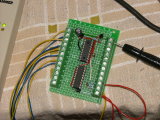 This now works very nicely. And back in the garage...
...John (from Aeon) had told me that the latest Aeon had failed its SVA because the dashboard panel was too tall, and you couldn't see the bottom of the dashboard bar. Since I knew that I'd designed mine to hide the bar, it needed trimming.
This was before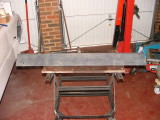 And then I took about 3cm from the bottom, and also a slither from both sides to make it easier to fit.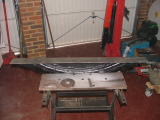 While I was working on GRP, I cut off the end of the door, so that the end could fill in the hinge section.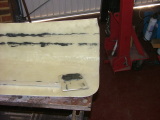 In order to give these sections some strength, I bonded some right angle aluminium section into the hinge area.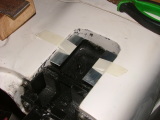 While these were going off, I had a go at the blower - earlier I had concerns that the entry hole in being directly under one of the vents would have little effect on the outer vents. This was the test rig.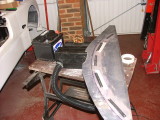 And, as I had feared, it was blowing significantly out of that vent. So, I moved the inlet closer to the centre of the dashboard by reversing some of the segments.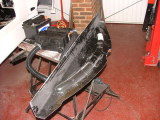 The white section is a new bit of tubing I had to replace the other two.
Then, John arrived - he didn't see that I'd done anything wrong (which was a relief!), and we talked about some of the things that needs to be done.
One of the jobs I hadn't done was the fuel tank sender/pump/swirl pot - John had told me that the sender's float mechanism needed bending to fit the tank. I wasn't sure how much, so when John arrived, he bent it to fit. In case anyone else needs to know, here's the finished article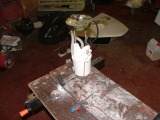 With John gone, I found that the bonding of the aluminium right angle section was good enough to mount the two door sections.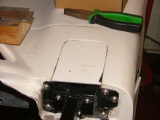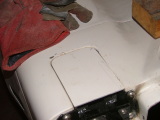 Tomorrow, the covering for the dashboard should be arriving, as well as the intercooler I've ordered to see how/if it will fit - it's from a Renault 5 GT, and I may actually use two of them (one on each side of the car).