Yesterday, I'd ordered the covering material for the dashboard, and I needed to wait for it to arrive. When it had arrived, I then had to pop off to the local Seat garage to get some bits that had arrived. Then, to the office to pick up some more bits that had arrived. By the time I'd finished all this, it was beginning to get dark, so I decided to have the day off.
However, one of the bits I got was a Renault 5 GT intercooler.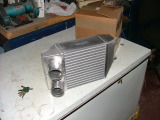 The nice thing about this is that it's fairly compact, and has the inlet/outlet on the same side. This is the current plan for its location.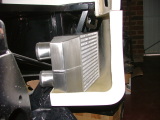 Although it may not be this way up.