The bits arrived today. I hired a van and went to Aeon's workshop in Kent.
I don't know if I was expecting more or less bits - but there are a lot of them: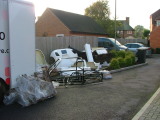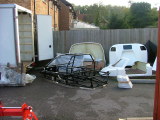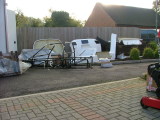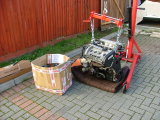 I then moved it to my next door neighbour's garage, and put the main parts of the body in place to give an idea as to what it'll look like: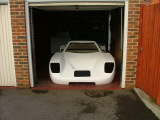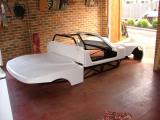 I spent the rest of the afternoon and early evening moving all the fibreglass bits in to the out-house and my garage, and transferring the engine from the hoist to the engine stand I'd bought two days earlier. It didn't help spending half an hour trying to screw an M12 bolt into an M10 hole (the top 3 bolts of the engine are M12, which is what I thought they'd all be).
I was hoping to fit the fuel tank, but ran out of time. The main thing is that it's here now, and I can get on with it.
Tomorrow's aims are to get the fuel tank fitted, and also the floors.