Other side pod
The first thing I did was to fit the other side pod.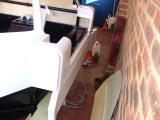 Front hinge
The next stage was to fit the front hinge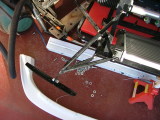 Nose section
With the hinge fitted, I was able to fit the nose, as well as its lower GRP section. Extra holes were drilled into the hinges to allow the bolts to be centrally located in the channels provided.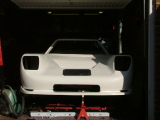 The nose fits fairly well - although (as expected) the side pods need to be moved (the right side [pictured] 10mm backwards, and the left side 30mm backwards).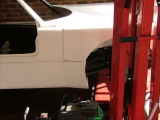 Steering column
As I had some time left, I started to look at the Mondeo steering column to see how it can be fitted.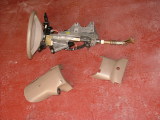 This column has crumple areas, as well as a triangular sliding section - should please the SVA inspector!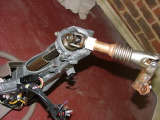 However, the best way to mount it is to weld some right-angle steel between the two cross-bars on the chassis. I've decided to wait until I've seen the demonstrator to see how (and where) it's been mounted (it also uses a Mondeo steering column).
GRP repairs
Because the back of the mid-section was dropped lower than I initially thought, the holes were too low. I've done GRP repairs on my Karma (quite extensive ones), so it wasn't anything frightening!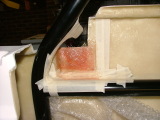 Since it's under the bonnet, it doesn't need to be very neat, but I'll tidy it up when it's cured more thoroughly.
Tomorrow
I'm going back down to the Aeon workshop to check up on a few things on the demonstrator, and also pick up some more bits. This will allow me to decide where things are to go.