Steering
After fitting the steering rack last night, I decided to get a steering column - only the top part will be used; the bottom part (which connects to the rack) will be new. There's a Mondeo breakers 5 miles away from me, so I popped over to see if they had one. They did - unfortunately it's brown, but that can be changed later on.
I haven't taken any pictures of it yet...
While I was out, I also bought a ½" UNF tap to clean up some of the bits on the other suspension, as well as some of the ones I've already put in (to make them a bit smoother).
GRP
Using a special jigsaw blade designed for GRP, I cut the bonnet so it now fits. It needs tidying up, but it now mates with the central body section.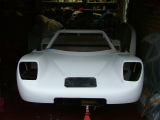 It isn't fitted exactly right yet - the main section needs to move forwards first (it needs a bit of trimming itself to do this).
Floor
The floor I was leaving until later, but since it comes in two parts, I decided to fit the larger rear section first. I was told that I should have done it before putting the suspension in, because it is easier to do with the chassis upsidedown.
It is.
Trying to keep it up while drilling and rivetting is really difficult - having a number of clamps helped. It's a little wide on one side, but that can either be trimmed, or I'll use it to keep the wiring in place.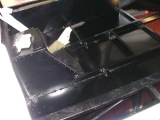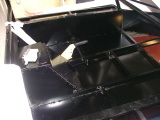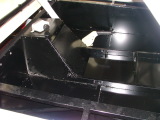 It needs a few more rivets to finish off, but I broke my 11th drill bit doing this (I had some really nice ones, but if they find a patch of steel that has been welded, then they have a tough time going through it). I'll need to get some more tomorrow (yet again).