Suspension
I decided to make a start on the suspension. First of all, I unwrapped all the bits that had come back from the powder coaters in bubble-wrap.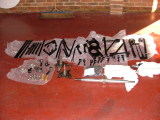 The front was the first to go on - tomorrow is apparently going to be raining, and as the front of the car is by the garage door, if it's open, I'll get wet!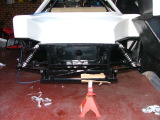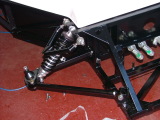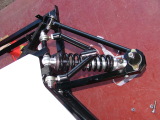 The top wishbones are meant to have an adjustment doodah that allows the camber to be adjusted without having to undo the top balljoint. However, this looks like it has not been machined correctly, so doesn't fit the balljoint. It's being investigated...
Then I started the back - unfortunately, the pack of nuts and bolts didn't have enough to do the other side (the missing ones are being sent to me).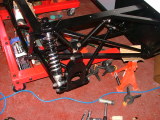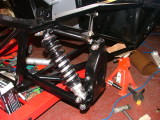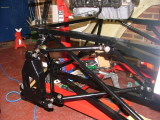 Other bits
Since I hadn't done as much as I'd hoped (due to no fault of my own), I put some other bits in - namely the radiator, steering column and front body hinge.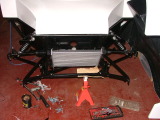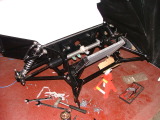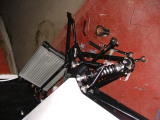 Tomorrow, I'll probably make a start on the fibreglass modifications.