Hubs
On Saturday, I found the correct way to use the camber adjusters. Later that afternoon, I discovered that mine were too long. I spoke to John this morning, and was told that they needed trimming. No matter - a quick blast with the angle grinder (with a thin disc) sorted them out!
Now, I had the three mounting joints to allow me to fit the hub carrier.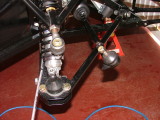 And with the hub carrier fitted (I gave it a lick of paint - it was beginning to go a little red)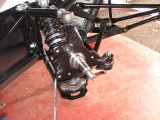 Kif decided to make a visit to see how things were progressing...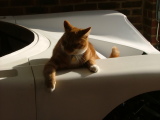 Dashboard
Yesterday, I'd glued some tabls to help me position the dashboard. Now that the glue had gone off, it was now possible to actually mount the dashboard.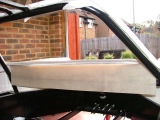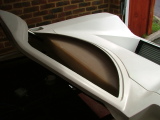 Once the rough position had been decided, I drilled and tapped the central dashboard mounting bar, and it's now held in place with 4 stainless steel button head bolts.
Now all I need to do is trim the bottom off, mount the steering column and put the DigiDash in place.
Front light pods
Cutting out the front light pod sections was very difficult, and involved a lot of trial and error - trimming pieces off until it fitted. The right hand side was done first (it was nearer the workbench!).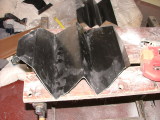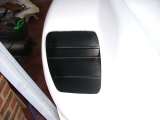 With the right hand side the right shape, it was transferred to the left (after mirroring the dimensions).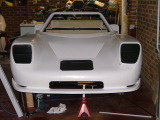 Rear light design
These are the lights I'll be using for the rear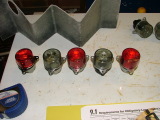 From left to right they are Fog, Reverse, Stop, Indicator and Position
After careful reading the SVA rules, the three main regulations I need to follow are:
Indicators need to be within 400mm of the outside edge of the car
Rear position markers also need to be within 400mm of the outside edge
Fog light needs to be at least 100mm away from the nearest stop light
The main rule was the 400mm one. I drew a line 400mm from the outside edge of the car on the back section.
Then, after measuring the spacing between the lenses (the regulations state that it's 100mm away from the surface area of reflector behind the bulb, but these are reasonably cylindrical), I found that the centres need to be spaced at least 80mm away from each other to provide the necessary spacing between the stop and the fog light.
With those factors in place, I marked the back of the car with the positions of each bulb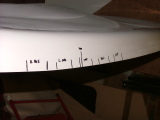 Unfortunately, my neighbour's 54mm hole cutter is 1mm too small to cut correctly, and as I want a neat job, I'll get a slightly larger one tomorrow (56mm will be fine). I'll also space the lights a bit more carefully (and possibly with an 82-85mm spacing to be safe).