Rear lights
I decided to have a go with Sikaflex holding the bolts down, rather than pure GRP resin. This would take 24 hours to set, but wouldn't involve any major construction.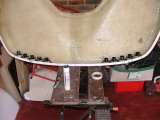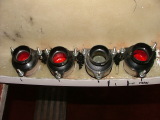 Note that the lights aren't the colours they're meant to be - all they are doing is holding the bolts in the right place while the Sikaflex cures.
Front lights
With the rear lights setting, I decided to make a start on the front lights.
The front indictor is easy - a 57mm hole (like the rear lights), and three bolts (again, like each of the rear lights).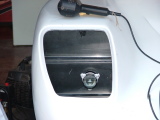 The main lights were a little more complicated - they're 90mm (plus a little bit further down the shaft). Unfortunately, the only hole cutters I could get were 89mm or 103mm. I went for the 89mm, and a bit of 120 grit wet and dry paper...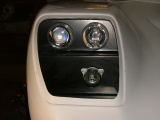 And then the other side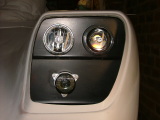 A last look at the rear
With the Sikaflex reasonably cured, I put the rear section away, and had one last look at the lights until tomorrow...