Steering column
I bought the steering column last week, and last night, my neighbour and myself were looking at where the demister heater would sit. It looked like there could be space above the steering column, just behind the wiper motor. Since these items have to be where they will be, they were the next things that needed to be fit.
I had a look at the pictures I took on the demonstrator - they had also used a Mondeo steering column - and liked what they had done. However, it could be improved. I worked out how to alter the design to allow it to move in and out (as well as up and down).
The first thing was to cut off some lugs that would get in the way.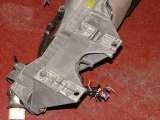 I then made a carrier for the column - this would slide up and down the shaft.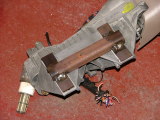 And then, the main support for the column was made. This is actually very similar to the design that Aeon had used on the demonstrator - except my carrier allows it to slide up and down the main support.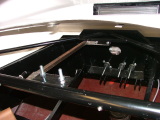 And with everything in place.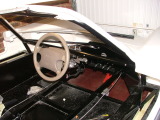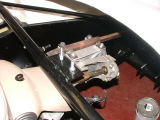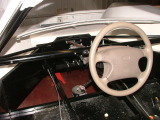 Heater
Unfortunately, there is just not enough space for the heater, so that will go inside the right hand side pod.
Wiper motor
There isn't actually much to show for this - I've put some Sikaflex under the main shaft bush and a small block of wood I'll be using as one of the supports. This would allow me to position the second support tomorrow.
Here's the hole for it - it took a while to make sure it was exactly centred on the windscreen.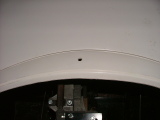 Sorry there isn't much more than that!
Rear lights (quick reprise)
I put in one side of the rear lights - correctly positioned and without the masking tape on the lenses.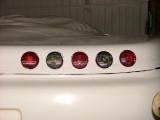 Nice!